By Vesna Brajkovic, Associate Editor
In the midst of the global pandemic, the health of the North American wood-tie industry is difficult to gauge. Demand continues to be steady, but the overall well-being of sawmills remains in question as other industries soften their demand for wood fibers.
In the first quarter, tie inventories were finally rebounding from 2019's constant severe weather that impeded sawcutting and drying operations, which tightened the availability of cut timber.
By March, the COVID-19 pandemic washed over North America and tie suppliers were left questioning the impact it would have on their customers. Shortly after, though, those businesses were deemed critical suppliers for railroads, many of which were continuing their maintenance-of-way (MOW) programs as previously planned. The "critical supplier" designation from state and local governments allowed facilities and treating plants — such as those owned by wood-tie suppliers Koppers Inc. and Stella-Jones Corp. — to continue operating at full capacity.
As the pandemic hit the United States, passenger railroads and transit systems began suspending or canceling operations as a result of declining ridership due to stay-at-home restrictions. For example, Amtrak earlier this year reduced operating schedules on more than 20 routes across the country. Plus, freight-rail traffic continued to decline through the second and third quarters.
The reductions and suspensions prompted larger track maintenance windows to open up. Some transit agencies and Class Is took advantage by expediting their MOW programs, resulting in tie customers needing inventory earlier in the year than they had in years past, says Ashley Goodin, executive director of the Railway Tie Association (RTA).
But while tie demand has essentially remained steady in 2020, sawmills have faced low demand for the other half of their business, which involves wood fibers used in palettes, shipping containers or mating for the oil and gas industry. A drop in oil prices and slowdown in the U.S. production of oil and gas is hampering that business, says Goodin, who succeeded former RTA leader Jim Gauntt in May.
The hardwood lumber market has also softened substantially.
"At this point, we're concerned about the supply chain and the overall health of sawmills," Goodin says.
Paired with the complications of the pandemic, some sawmills are now running at 50 percent or less of their production capacity because they can't move product, Goodin explains.
"Pure crosstie producers that rely upon the sale of pallet side lumber were dealt a blow that impacted crosstie volume," said Bill Behan, president of Gross & Janes Co., in an email. "The early decline in pallet wood consumption forced these producers to curtail or stop altogether. This same scenario was repeated with flooring consumption causing crosstie plants to idle."
Conversely, production in the East surged as wood ties were the only value proposition for sawmillers, and the tie market became flooded with unexpected volume, Behan said.
"What happened with the downturn in the economy and the other products that the sawmills cut — pallets, lumber and export — is those markets kind of went sideways," says George Caric, Stella-Jones Corp.'s vice president of marketing. "But the demand for crossties remains strong."
Production more productive
Production figures support that. In July, tie production totaled nearly 1.9 million units, up from June's 1.73 million units and July 2019's 1.59 million units. Tie purchases in July 2020 jumped to 2.05 million units, up from 1.8 million units in the same month last year, according to RTA data.
The inventory-to-sales ratio grew from 0.63 in July 2019 to 0.82 in July 2020.
Last year, 18,546,000 ties were installed. As of September 2020, 16,259,000 ties have been delivered and about 17 million are expected to be installed in track this year, Goodin says.
For Gross & Janes, demand for both cross and switch ties has remained steady with little change so far in 2020, Behan said. The bulk of the supplier's procurement and customer sales are west of the Mississippi River.
As some transit agencies and Class Is took advantage of the broader work windows and continued or expedited their MOW programs, tie demand remained constant.
"We saw inventory drawdown a little earlier in the construction and maintenance season beginning in the spring than we had seen in years past," RTA's Goodin says.
As a result, the industry is outpacing the 2020 sales prediction RTA made last year by 14 percent.
"We may see that flatten in Q4 as things start to normalize," Goodin says. "We haven't seen an increase in demand from railroads, we have just seen earlier purchases than typical."
For Koppers, Class I demand has remained strong and is prompting a solid year. Only one Class I significantly reduced its 2020 program, Koppers' VP of sales and marketing John Giallonardo says. A few of Koppers' large-road customers were aggressive and pushed up their tie installations and condensed their MOW programs earlier in the year, he says.
As those railroads accelerated their demand, they required nearly the same amount of ties that they'd purchase in a full year, but in a smaller amount of time.
"That's where I give our plants a lot of credit for operating and being able to handle that," Giallonardo says.
Stella-Jones also had one Class I trim its program. However, other major customers — including Canadian Pacific, CSX and some short lines — maintained their programs similar to 2019, says Stella-Jones' Caric.
For example, CSX's MOW program this year called for replacing and installing more than 3 million wood ties, according to Progressing Railroading's 2020 MOW Spending Report released in April. A CSX spokesperson confirmed via email there were no changes to that plan.
Likewise, Union Pacific Railroad, which planned to replace or install 3.45 million wood ties this year per the report, has made no changes so far, according to an email.
Compared to other industries, the crosstie and MOW supply industry has had a strong year, Caric says.
In a better place
Despite the pandemic and RTA's worrisome outlook on sawmills, the wood-tie industry was able to rebound from a large downturn last year.
In 2019's first half, tie inventories were significantly reduced due to record rainfalls and flooding.
"At one point, we were only buying one half of our target objectives," Gross & Janes' Behan said.
But a mild winter and a drier summer allowed untreated tie production to continue and log inventories to rebuild — or as Caric puts it, the industry was able to "replenish the cupboard."
Now, tie suppliers are looking forward to a "normal" year ahead, Behan said.
While inventories recovered at 2019's end and into early 2020, the West Coast seemed to lag behind the East Coast due to more severe flooding and rain, says Koppers' Giallonardo.
"It seemed like it took the western part of the U.S. a little bit longer to stabilize and get caught back up," he says. "I would say today, we're in a much better inventory position than we were a year ago."
Some severe weather continues
In September, hurricanes on the East and Gulf coasts and raging forest fires along the West Coast dampened some customer demand, says Lonza Wood Protection Product Line Manager Tim Carey.
Lonza's main chemical tie protection — a waterborne preservative called ammoniacal copper zinc arsenate — is used primarily to treat wood species on the West Coast, such as douglas fir, so most of the company's customers are in that region, he says.
Right now, operations essentially are at a standstill since timber is burning and customers aren't performing trackwork in areas around the fires, Carey says.
"When all this is said and done, demand is probably going to be more than what we expected to do this year simply because there's going to be so much replacement work that's going to have to be done," he says.
Overall commodity lumber pricing spiked in the beginning of August, primarily driven by softwood demand. Home builders pushed to meet an increasing market for families seeking house upgrades while working or schooling from home during the pandemic, Nisus Corp. officials said in an email, citing a report from businessinsider.com.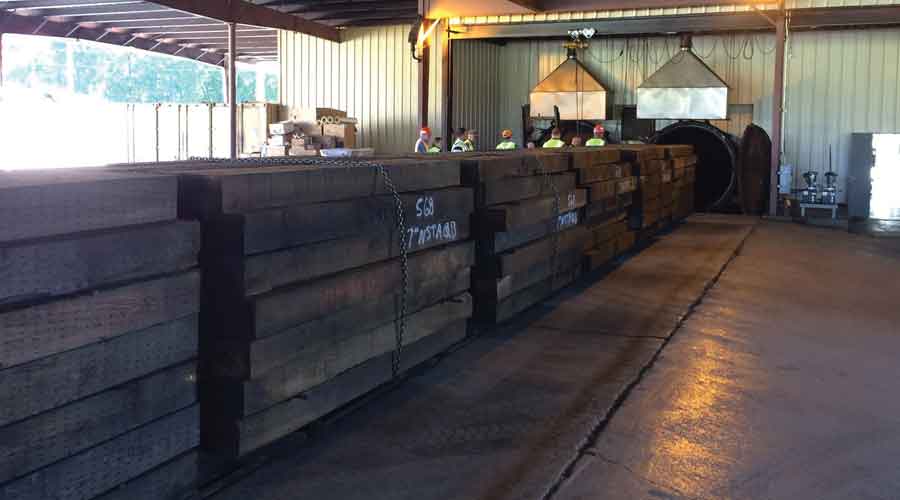 Shown: Crossties treated with copper naphthenate being pulled from a treating cylinder at Mellott Wood Preserving.Nisus Corp.
The increases in softwood lumber from the building industry are generally followed by increases in hardwood lumber usage as homes are finished with hardwood floors. The increased activity also flows through to the pallet market, Nisus officials said.
"Although there may not be tie supply issues, there may be price pressure driven by increases in hardwood pricing in Q4," they said.
Factoring in tie disposal
One factor impacting the tie market this year is the increasingly difficult end-of-life planning, explains Ken Laughlin, Nisus' divisional VP for wood preservation.
Most old ties are sent to landfills or to boilers for energy recovery operations. Boilers are charging about a $2 tip fee per tie while landfills charge about $4 per tie. Add in about another $4 for shipping, and the total disposal cost per tie is about $6 to $8, said Laughlin in an email.
"We have seen an increase in railroads using copper naphthenate-treated (QNAP) ties because they are allowed as boiler fuel in any boiler, even clean biomass boilers per the Environmental Protection Agency's (EPA) non-hazardous secondary material rule," he said. "QNAP ties are also EPA-labeled to be used as residential landscape timbers, giving railroads a significant potential future cost savings."
Class Is are increasing their share of QNAP ties, to the point Nisus is registering 65 percent growth in QNAP ties this year, Laughlin said.
To meet those demands, Nisus helped convert two of its 11 treating plants to switch preservatives in their treatment cylinders.
"One of the things I hear a lot from the field is how the QNAP-treated ties are really loved by the crews replacing ties and bridge ties," said Canon McDonald, Nisus' southern regional sales manager in the wood preservation division, in an email. "The freshly treated ties are not slippery when wet, and the clean handling characteristics of QNAP ties mean gloves last longer and clothing can simply be washed instead of being disposed of as hazardous waste."
Meanwhile, as Europe faces increased regulatory pressure on creosote and moves toward the acceptance of QNAP-treated ties, an opportunity could open for U.S. tie companies, said Jeff Lloyd, Nisus' senior VP of innovation and sustainability, in an email.
"Some of these companies ship untreated hardwoods, especially oak, into Europe for treatment there," he said. "As Europe moves towards the acceptance of QNAP, the option for adding value in the USA by shipping treated ties into Europe becomes possible."
Optimism in a cautious context
Looking toward next year, the RTA is predicting a slight increase in tie purchases by roughly 750,000 units compared with 2020's level.
With the difficulties sawmills are facing, RTA's Goodin says the association is concerned that the industry may not have the inventory it needs heading into and through 2021.
For Gross & Janes, the western producers and end users appear to be steady going into 2021. But "steady" shouldn't imply "stable," the company's Behan said.
"The dismal value of grade lumber for sawmillers makes the overall production supply chain very vulnerable," he said. "Producers have big decisions to make regarding raw material commitments for 2021. I am afraid they may choose to not take an inventory position and simply rely upon spot market conditions."
While the long-term impact of the pandemic remains uncertain, Koppers is proceeding as usual, the company's Giallonardo says.
"Obviously you can't let your guard down," he says. "But overall, the industry is in a better place than it was in March when there was so much unknown."
Vietnam Film Faced Pywood
Thank you for your time!