Lesprom - CEI-Bois, the European Confederation of the Woodworking Industries, and the European Organisation of the Sawmill Industry (EOS), a non-profit association that represents the European sawmill industry, have enhanced their cooperation, by appointing Silvia Melegari as a Joint Secretary General for the two organisations.
The two organisations share resources and have a wide cooperation both in the field of technical specifications and common advocacy actions towards the European Union institutions.
CEI-Bois and EOS have, in their respective General Assemblies, decided to deepen this cooperation further, with the aim to:
- Creating the indispensable bridge linking the Wood Industry value chain with the European policy makers;
- Advocating for the use of legally harvested wood as strategic solution to climate change challenges;
- Creating favourable legislatives and policy conditions for enhancing the use of wood in construction and wood consumption within and outside the EU borders.
Furthermore, they created a new position, Director of Public Affairs, this will focus on pro-active advocacy. The recruitment process is currently ongoing. (opens in a new window)    Write to us
Best Wood Schneider GmbH to build new sawmill in Germany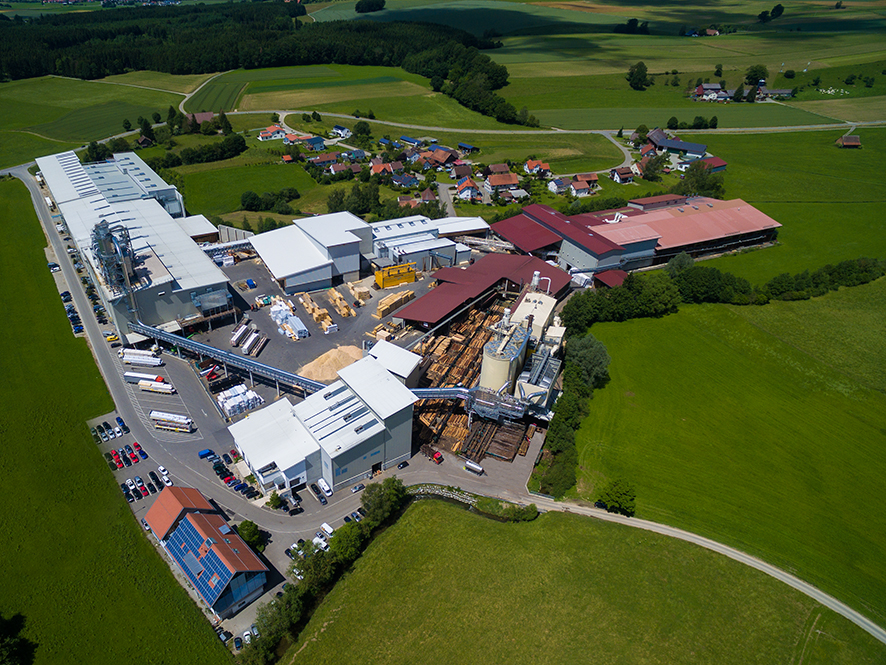 The medium-sized company Best Wood Schneider GmbH with production site in southern Germany raises new standards with the new planned sawmill. At the new location in Meßkirch, Schneider intends to increase the automation significantly and is relying on a mix of German, Finnish and Swedish manufacturers for the machines. The company is planning to build a new production plant for about Euro 80 million, which will increase the production of sawb timber to 200,000 m3 and of plank plywood to 100,000 m3 per year.
Schneider ordered the log yard mechanisation from Holtec. The concept does not provide an independent log yard. The logs are fed separately according to small and large diameters on two independent feeding conveyors. The line for small diameters is designed that small cutting sets are pre-sorted according to diameter ranges over several sorting decks and are transferred online to the sawline. The line for large diameters operates online without pre-sorting. In the infeed area a butt end reducer will be placed.
Beginning of installation is planned for summer 2021 and commissioning is expected for the following winter. (opens in a new window)    Write to us
Roseburg promotes Matthew Sally to eastern region Supply Chain & Logistics Manager
03:40 AM / September 22, 2020
Roseburg Forest Products announces that Matthew Sally has been promoted to the role of Supply Chain & Logistics Manager for Roseburg's eastern region.
In his new role, Matt will lead the transportation and logistics team within his region, assisting in the development and implementation of logistics strategies and collaborating across the organization to meet the company's business objectives. He will report to Rick Whitmore, Director of Supply Chain & Logistics, and work closely with his counterpart Andrea Stratton, Supply Chain & Logistics Manager for Roseburg's western region.
Formerly procurement manager at Roseburg's Pembroke MDF plant in Ontario, Canada, Matt brings 20 years of supply chain expertise to the position, including international trade, customs compliance, shipping, procurement, transportation logistics, distribution and inventory management. (opens in a new window)    Write to us
Itasca Capital company 1347 Investors to acquire Kenora sawmill in Canada
03:15 AM / September 22, 2020
Itasca Capital Ltd. announce that one of its investee companies, 1347 Investors LLC has agreed to acquire, for consideration of $11.5 million in cash, a sawmill and related assets located in Kenora, Ontario from the court-appointed receiver of a resource-based vendor. In connection with the acquisition, Itasca intends to complete a non-brokered private placement financing and add Paul Rivett and Rick Doman to its board of directors.
The acquisition, which has been approved by a court vesting order of the Manitoba Court of Queen's Bench granted on September 9, 2020, is expected to close on or about October 5, 2020. The company also intends to change its name to "GreenFirst Forest Products Inc." following closing.
The purchased assets are comprised of a sawmill and related equipment and lands of approximately 114 acres. The sawmill sits on a 42 acre site leaving over 72 acres of undeveloped lakefront land in the attractive Lake-of-the-Woods region. The sawmill is located near major transportation routes, including the Trans-Canada Highway and the main Canadian Pacific rail line, providing easy access to the nearby Canadian-United States border and several key mid-west U.S. markets, including Minneapolis, Chicago, St. Louis and Dallas.
The Kenora sawmill has access to up to 450,000 cubic meters per year of high-quality, northern SPF timber and is equipped to produce up to 100 million board feet (MMBF) per year on 2 shifts of quality SPF (Premium, #1&2, stud grade and MSR grades focused on PET 8-9' lumber products). It is expected that the Kenora sawmill can be optimized to achieve production capacity of 200 million board feet annually. (opens in a new window)    Write to us
Roseburg Forest Products appoints Kara Herron as strategic marketing manager
Roseburg Forest Products announces that Kara Herron has joined the company as strategic marketing manager. Kara will provide marketing leadership and help build the infrastructure needed to support Roseburg's strategic growth plan. She will bring her extensive experience to bear while elevating Roseburg's marketing maturity, benchmarking against best marketing practices and developing strategic, technology-enabled solutions for the business.
Kara joins Roseburg from Mimaki USA, a wide-format digital printer manufacturer, where she served as a brand marketing leader. She previously worked as a customer communications manager at WestRock Packaging Company and in marketing and communication leadership roles for Kimberly-Clark Professional and Acuity Brands Lighting, all in Georgia. (opens in a new window)    Write to us
Twin Rivers appoints Tony Mollica as new CEO
03:24 AM / September 19, 2020
Twin Rivers appoints Tony Mollica as new CEO. He brings to the company a unique blend of sales, operations, and leadership experience that will accelerate our strategic transformation to becoming the market-leading manufacturer of specialty packaging, technical, label, and publishing papers.
Tony replaces Tim Lowe, who will return to his role on the Board of Directors after acting as Interim CEO.
Twin Rivers, headquartered in Madawaska, Maine, produces specialty packaging, label, publishing, and technical specialty papers as well as dimensional lumber.