Lesprom – The unprecedented increases in North America construction framing softwood lumber prices seen so far during 2020 slowed somewhat last week. Normally by Labour Day customers have ordered, and indeed received, their wood for ongoing and expected projects to the end of the year. Usually in early September prices have already been falling, as that wood has been produced and shipped to end-users. Generally speaking at this time of year sawmill order files are down to just a few days, lumber manufacturing can easily keep up with demand, lumber yards are well stocked, and players are looking toward the end-of-year shutdown, according to Madison's Lumber Reporter.
As happened a few weeks ago, the only lumber commodity item which lost ground last week was plywood. It is often the case that panel (Oriented Strand Board, or OSB, and plywood) lead the market and provide good indication of looming changes in dimension lumber prices. Only this week and next will tell if lumber prices will flatten, or even drop as plywood did last week.

Western S-P-F purveyors in the United States noticed a slight pullback in demand last week as stratospheric prices, limited availability, and ludicrously protracted arrival times engendered caution. October order files kept sawmills confident for the time being, as did the well-documented dearth of material across the supply chain. Sales volumes remained steady and strong. Studs garnering unyielding demand as buyers tried to find framing elements to complete construction projects.
A combination of negative futures board activity, insanely far-out sawmill order files and delivery times, and freakishly-high prices gave Canadian sellers of Western S-P-F lumber their first pause in months last week. Demand was still strong but an increasing number of customers were throwing in the towel as they feared the consequences of buying at current levels. Sawmill order files were into mid-October and rail car delays pushed delivery times into mid-November.

For the week ending September 4, 2020, prices of standard construction framing dimension softwood lumber slowed their recent record-breaking increases. Benchmark softwood lumber item Western S-P-F 2×4 #2&Btr KD price gained another +$26, or +3%, to US$966 mfbm (net FOB sawmill), from an astounding US$940 the previous week. The price for this lumber commodity was up +$300, or +45%, from one month ago. Compared to the same week in 2019, when the price of this item had flattened at US$370 mfbm, it is up +$596, or +161%.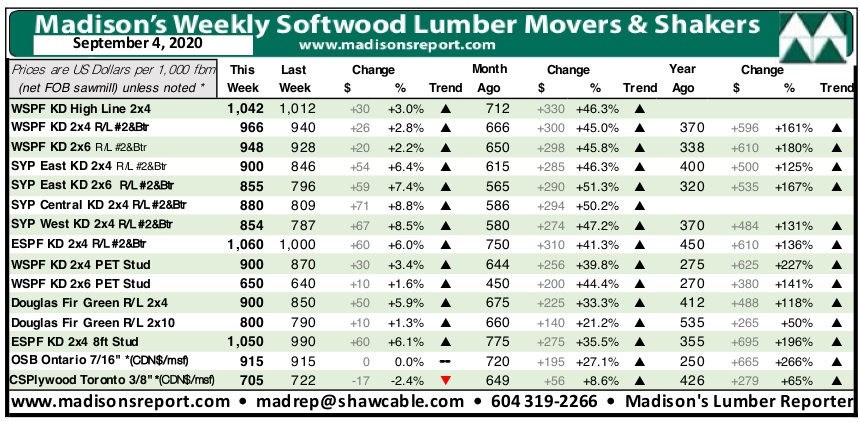 Still increasing but by lesser degrees than this summer, last week's Western S-P-F 2×4 price rose by +$520, or +117%, relative to the 1-year rolling average price of US$446 mfbm and was up +$559, or +137%, compared to the 2-year rolling average prices of US$407 mfbm.
The below table is a comparison of recent highs, in June 2018, and current September 2020 benchmark dimension Softwood Lumber 2×4 prices compared to historical highs of 2004/05 and compared to recent lows of September 2015: