Lesprom - North American lumber prices were actually up last week as demand increased. This is absolutely unprecedented for the week before US Thanksgiving and sawmills simply do not have enough wood in their yards to sell to ravenous customers, according to Madison's Lumber Reporter.
As one large-scale lumber trader put it at the beginning of this week, "Customers who were reluctant to book orders at these new higher prices, when they called back that wood was already sold." Construction framing dimension softwood lumber is selling as if it is April, when the US home building season is getting started, not the end of November when construction and thus forestry are normally closing down for the year. Both the Case-Shiller house price index and the Federal Housing Finance Agency House Price Index came out Tuesday and are showing +7% and +8% increases respectively compared to last year.
Folks in the business of manufacturing and selling lumber alike actually don't know what to think about this remarkable situation, but one thing is for sure: 2021 is going to be a hot banana for US home building and thus for lumber sales and prices.

Western S-P-F suppliers in the United States had another solid week of sales, with sawmills extending their order files on bread and butter items to the end of November. Prices advanced in fits and starts on certain commodities while most remained flat. However the strong tone of demand was inarguable. Demand for 2x4- and 2x6-9's was again the hottest as multi-family projects continued to generate strong demand for that trim. Even as sales of #4/Economy lagged behind the rest of dimension items, prompt availability of even that weaker category was drying up with alacrity as demand strengthened further.
Sales of Western S-P-F in Canada developed a steady rhythm since last Wednesday according to producers. Three- to four-week order files at sawmills were established with ease on the most commonly-traded commodities, while some low grade items showed prompt availability. Players didn't expect that to last, especially as many producers were apparently in the process of shifting their low grade focus over the winter to heavy export programs involving Asian countries. Lower grade offerings were also getting cleaned up by Canadian buyers looking to take advantage of the "Canadian discount" before an expected change to the softwood lumber duty rate, which occurs soon.

To the astonishment of all, for the week ending November 20, 2020 the price of benchmark softwood lumber commodity item Western S-P-F KD 2x4 #2&Btr continued to increase, climbing another +$6, or +1%, over the previous week to US$596 mfbm, said Madison's Lumber Reporter. Last week's price is -$104, or -15%, less than it was one month ago. Compared to one year ago, this price is up +$200, or +51%.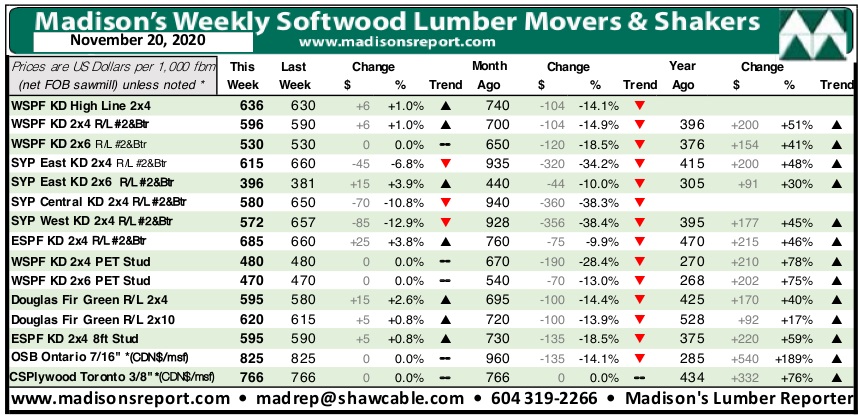 Compared to the 1-year rolling average price of US$538 mfbm, last week Western S-P-F KD 2x4 #2&Btr was selling for +$58, or +11% more, and was up +$143, or +32%, compared to the 2-year rolling average price of US$453 mfbm.
The below table is a comparison of recent highs, in June 2018, and current November 2020 benchmark dimension Softwood Lumber 2x4 prices compared to historical highs of 2004/05 and compared to recent lows of September 2015:

 (opens in a new window)    Write to us
Tags
Northwest Hardwoods names Jason Gobel General Manager
02:44 AM / November 24, 2020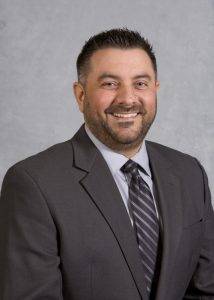 Photo: Jason Gobel
Northwest Hardwoods announces that Jason Gobel, currently Product Marketing Director – East Business Unit, has been appointed to the position of General Manager – Specialty Products Business Unit, effective December 1st, 2020. Jason replaces Jim Canter who has acted as interim GM since last year. Jim will remain with the Specialty Products business and has been appointed to the role of Sales Manager – Specialty Products.
Jason's career began with the company in 2004, starting in a North American sales support role. He has held roles of increasing responsibility since joining the company, including International Sales, West Coast Account Manager, Southwest Region Sales Manager, and most recently Product Marketing Director – East BU.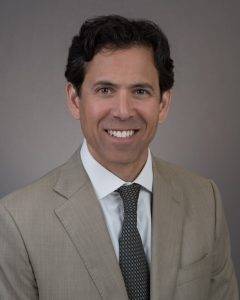 Photo: Jed Miller
Northwest Hardwoods also appointed Jed Miller, currently Product Marketing Director – West Business Unit, as General Manager – International Business Unit, effective December 1st, 2020. Jed replaces Mark Schweizer, Vice President – Marketing & Strategy, who has acted as interim GM since last year.
Jed has more than 28 years of experience in both the domestic and international sectors of the industrial wood products industry. He brings extensive experience in business-to-business sales and new market development. Prior to his role as Product Marketing Director, Jed had spent several years developing the European, Middle East and African markets for Northwest Hardwoods.
Northwest Hardwoods is the largest United States manufacturer of North American hardwood lumber based on sawmill capacity, with a current estimated annual hardwood lumber capacity of approximately 320 million board feet.