By Mark Halverson – Concrete formwork may represent close to half the cost of a concrete structure. For cost-effective building, contractors select forming panels that will stand up to the job and to multiple uses.
Member manufacturers of APA−The Engineered Wood Association produce a variety of plywood form panel products—Plyform—designed for most general concrete-forming applications. Usually pretreated with a release agent to facilitate stripping, these panels are available in many grades from basic B-B to products with overlays (i.e. Medium-density Overlay [MDO]) and High-density Overlay [HDO]) that add stability, resist abrasions, and provide a smoother and more durable forming surface.
Each producer of overlaid concrete-forming panels offers proprietary products offering a variety of different features and benefits.
Choosing panels
When planning multiple reuses, it is best to use plywood with more durable construction. All Plyform panels have more solid and stronger veneers than traditional sheathing panels, offered in a range of durability. These panels are rated as Class I, which means they are manufactured with the strongest and stiffest veneers. The grades of veneer used in Plyform panels are indicated in the APA trademark.
MDO and HDO overlaid panels have resin-impregnated cellulose fiber sheets laminated to their faces, and can have either single- or double-sided faces. With careful handling and maintenance, any double-faced forming panel, from B-B Plyform to the overlaid panels, can be poured against on both sides.
HDO forming panels have a greater amount of resin in the overlay; their surfaces are harder and more impervious to water and impacts than MDO forming panels. A greater number of uses and smoother finish on the surface of the concrete can be expected when using HDO Plyform.
Forming panels with MDO faces are often only overlaid on one side, but may have pourable faces on both sides of the panels. While MDO surfaces are not as smooth and durable as HDO panels, a contractor should expect to get more pours from them than the panels without overlay or other surface treatment. The finish of the concrete from an MDO surface will be softer and not as slick as that formed against HDO panels.You May Also Like Moisture measurement in concrete floor slabs
There are many different types of overlays and treatments for Plyform that can be used to maximize durability. B-B and B-C panels can be made more durable and resistant to moisture with a coating such as polyurethane or other type of liquid surface treatment. One of the newer high-performance overlays is phenolic surface film.
It is important to remember not all MDO and HDO overlaid panels (e.g. some General and Industrial products, respectively) are designed for concrete formwork. Care should be taken when specifying and purchasing concrete-forming panels; one can look for the APA trademarks clearly identifying the panel grade and type.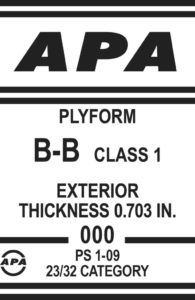 How many pours can you get from a concrete form panel?
The question of how many pours are achievable with a single concrete form panel depends not only on the product itself, but also its care and maintenance. Nearly all types of plywood panels can be used in concrete-forming, from common roof and wall sheathing to sanded panels. APA Plyform panels, however, are specifically designed to withstand the wear-and-tear of repeated concrete pours, as well as to provide a smoother and more consistent finish to the concrete's surface.
Many factors can affect the number of pours anticipated from concrete-forming plywood, including:
desired finish on the concrete;
durability of the panel's surface, including overlays;
types of concrete formulation; and
which release agents are used.
The most critical factor is the handling and care of the form panels.
For example, because panels absorb water, and the increase in moisture content usually causes the panels to expand and move, it is important to adequately fasten the form panels to the framing and to leave space between the panels that allows for their flatwise movement within the formwork.
With reasonable maintenance, more than five pours can be expected from a B-B grade Plyform, while HDO panels can withstand up to 20 to 50 reuses, and MDO Plyform somewhere in between. In fact, with proper care, some proprietary concrete-forming panels can achieve more than 100 reuses.