Blog.plyco – The Christmas and New Year holiday period is one of the best times of the year to get building projects done, with the sun shining (usually) and plenty of time on your side.
Unfortunately, around this time of year many stores shut for an extended period of time, leaving you stranded. Thankfully, Plyco has you covered right through the summer and holiday period. As the number one plywood supplier in Australia, Plyco is open right throughout the holidays, allowing you to stock up on supplies for the big summer ahead. Outside of the major public holidays (Christmas Day, Boxing Day, New Years Day and January 2nd) we are operating as usual to ensure your plywood needs are met.
While Plyco is open to scratch your plywood itch and help you complete those nagging projects right throughout the holidays, perhaps you're also searching for inspiration on what to build next? Here you'll find 5 handy Christmas-inspired projects that can be made with Plyco plywood, along with tutorials to guide you every step of the way.
#1 – Plywood Reindeer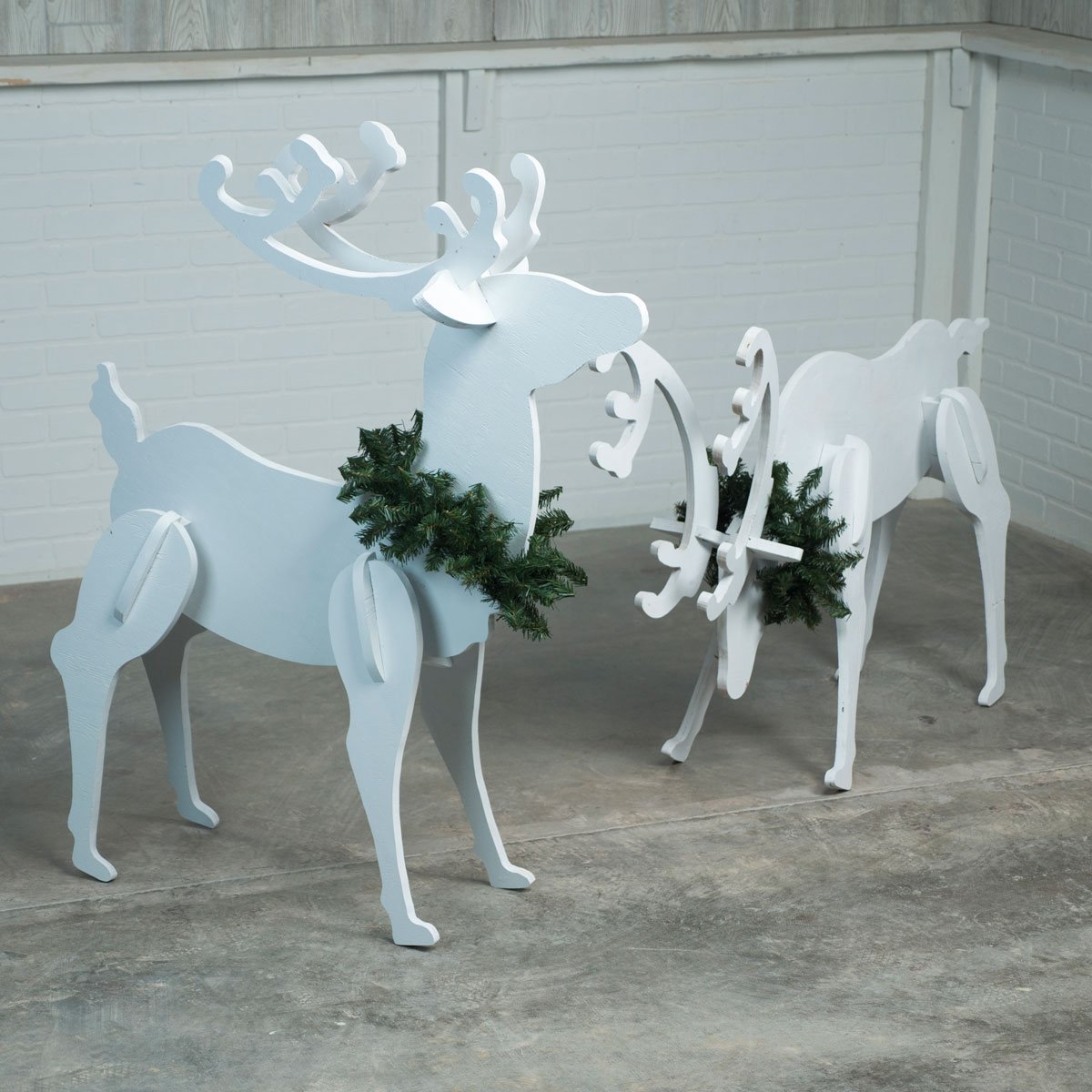 Have you been searching for the perfect Christmas decorations to guide Santa down your chimney? Are the same old department store choices leaving you underwhelmed? If so, we recommend taking matters into your own hands and sprucing your lawn up with a plywood reindeer. Not only will you have an extremely unique decoration that nobody else in the neighbourhood will have, but creating your own reindeer from scratch is also incredibly cost effective.
The only materials required for this Christmas project is two 2400 x 1200mm size sheets of plywood, some painter's tape, and printer paper. While you're free to use whatever variety of plywood you like, for the most cost effective solution we would choose our CD Non Structural Plywood. It won't look as fancy as some of the other options, but because you'll probably be painting it at the visual appearance of the raw sheet is irrelevant.
As for tools, you'll need a jig saw, a marker, and a utility knife to complete the plywood reindeer project.
This project is incredibly simple to make, and we'd even recommend getting the kids in on the fun of this one. Follow along with this tutorial, which will give you access to handy templates that will have you riding in a one horse sleigh tonight!
#2 – DIY Plywood Santa Sleigh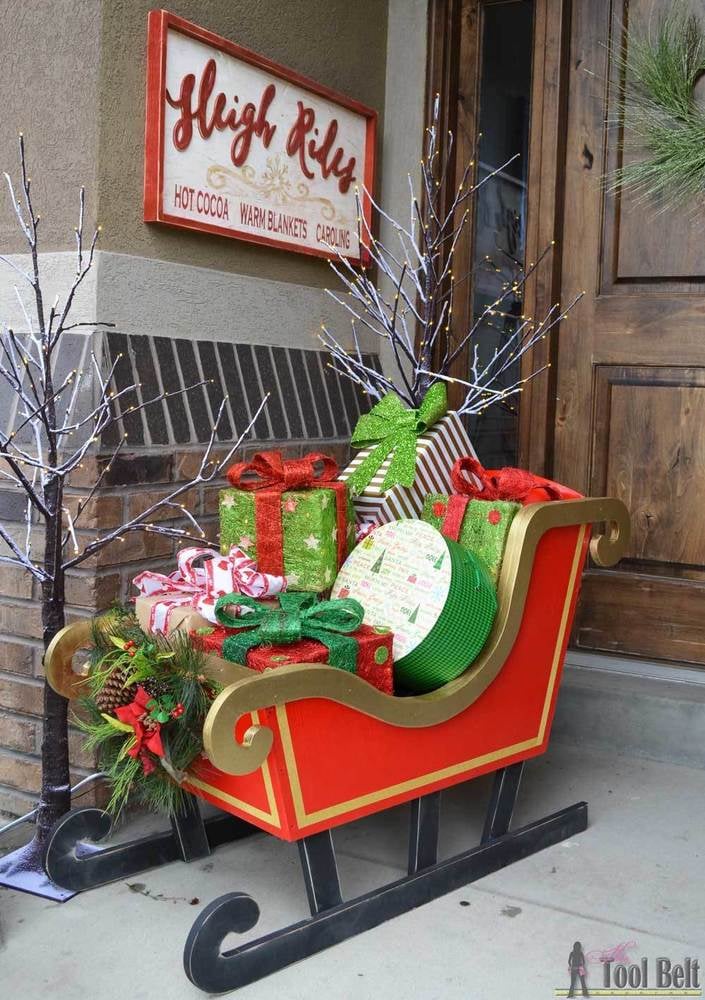 Now that you've constructed your own personal fleet of reindeer, they need something to pull through the night and store presents. The perfect partner for our first plywood Christmas project is this DIY plywood Santa sleigh. While it is slightly more complex thanks to some intricate cuts required and trickier joints, it's certainly worth the effort, particularly if you're attempting to have the most impressive decoration display this December.
Just like the reindeer, a pair of CD Non Structural Plywood sheets work brilliantly in this project. However, if you're worried about it withstanding whatever weather is thrown its way, you might want to pivot towards an exterior or marine grade plywood. Our Marine Plywood and Hardwood Exterior are specifically designed to withstand damp and wet conditions, so if a dreaded Christmas Day downpour rolls in this year, you can rest easy knowing Santa's sleigh won't fall apart.
As long as you have a jig saw, a drill, some sand paper, and a hot glue gun, you should be more than prepared to take on this challenge. You're also going to want to pick up some red paint to give it that true Santa feeling.
You can see all of the required materials as well as a step-by-step tutorial at Ryobi Nation's website.
#3 – Plywood Christmas Tree
While you might have the outside of your home looking festive and ready for the holiday season, it's important to not forget about the inside of the house. If you're looking to save some space, or just trying to find something to bring a little extra holiday cheer, we recommend constructing your own Plywood Christmas tree.
Nothing can match the authenticity of a proper living Christmas tree, but we think one of you built yourself is the next best thing. Not to mention, it's also still made out of wood.
Much like our first two Christmas projects, the only major tools required are a drill and a jig saw. You might want to pick up some paint too, however, a great alternative to paint is to grab one of Plyco's veneered plywood panels. Using a natural timber veneer means you still retain that authentic tree feeling, and with a plethora of unique options there is bound to be one that catches your eye.
For step-by-step instructions to guide you along the way, check out this helpful post from Skil.
#4 – Laser Plywood Christmas Ornaments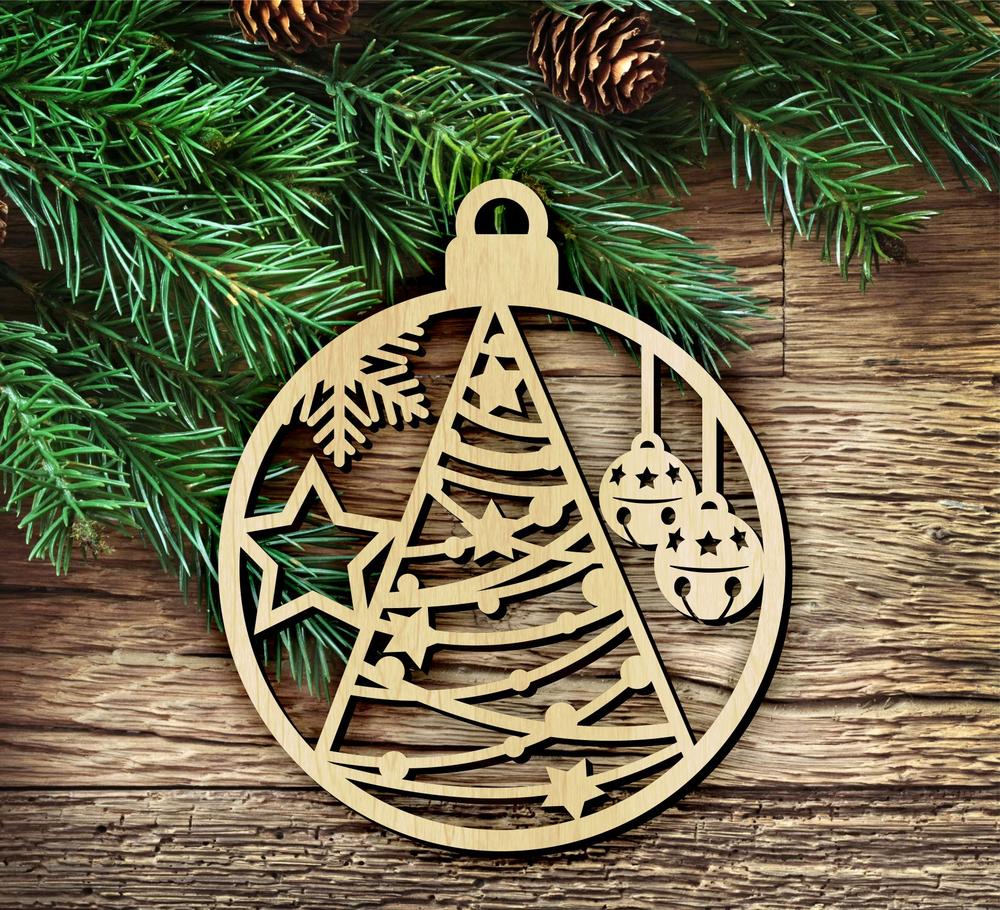 Having an eye catching Christmas tree is all for nothing if you don't have equally impressive decorations to adorn it. Instead of sticking with the same ornaments everybody has, why not do something a little different this year and create your own?
This is the perfect project for those that have access to a laser cutter. There are a massive range of Laser Plywood Christmas decoration templates online for free, which allows you to create truly unique designs that money can't buy. Additionally, with 12 different types of laser grade plywood available at Plyco, you're guaranteed to find something you love. And in the case of finding multiple options you like, you can create different styles for the same design.
The team here at Plyco highly recommends the handy templates over at 3axis. They're incredibly easy to use and they have the most extensive selection of Christmas designs that we have seen.
#5 – DIY Plywood Stocking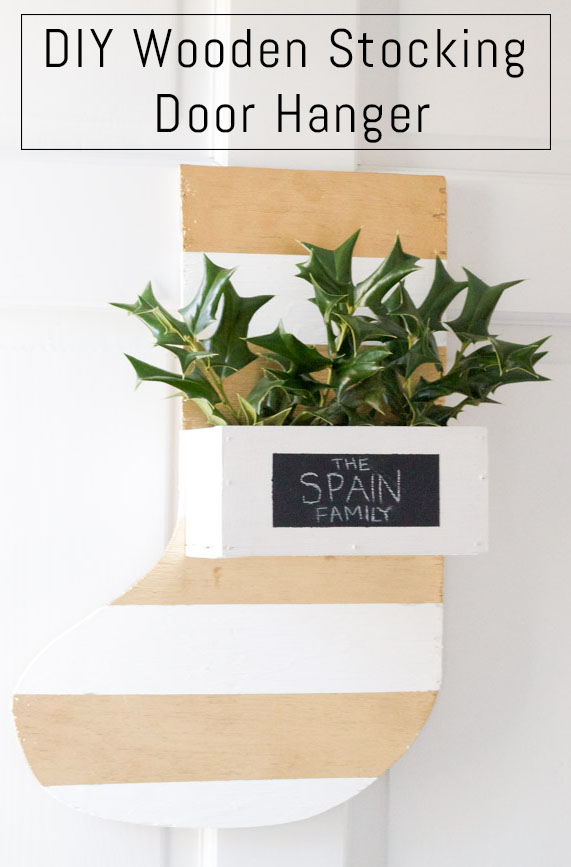 Once you've built your yard decorations and decorated a plywood tree it's time to make something that can store all those amazing presents you'll be receiving. Stocking stuffers have never looked this good before.
Much like the other projects mentioned on this list, the steps are quite straightforward. However, what we like most about this one is that you can potentially make one for each member of the family from just a small quantity of plywood. A couple of standard 2400 x 1200mm sheets should easily have a family of four covered, making sure nobody misses out on the fun.
With Christmas plywood stockings in tow, you can all enjoy sitting down and decorating them to your heart's desire. It's the perfect way to get into the holiday spirit.
For detailed instructions Erin Spain has got you covered.
Are you in the Christmas spirit and feeling inspired now? If so, head over to our online store where you can browse and shop our entire range from anywhere in Australia. If you feel like paying us a visit this holiday season you're more than welcome to come on down as we are open right throughout the Christmas period (excluding public holidays).