Laminex – Plywood has enjoyed perennial popularity among architects and designers, and Laminex Product Design Manager Neil Sookee is unequivocal when asked why. "Ply is just such an honest material. It's a rotary peeling from a log, so you get an undistorted representation of that piece of timber," he says. "It's that inherent simplicity and honesty that resonates with designers. And it's graphically very pleasing." Global research into trade shows and exhibitions, and what was being talked about by designers, revealed a resurgent interest in rotary birch ply as a decorative construction material. And so Laminex Raw Birchply was born.
Capturing the look of plywood in fine detail
The process of developing the new decor was painstaking in its pursuit of an authentic natural plywood look. "It was all about achieving absolute realism," explains Sookee. "We used a contrasting method to show the very fine fibre detail on the surface. "The Laminex team also had to make decisions about the desired tone of the laminate. Natural veneers are notorious for changing colour, whether as a result of applied finishes or through exposure to light and natural "yellowing off", so Raw Birchply was designed with a very light, natural colouring to reflect the true tone of freshly cut rotary birch ply. In this way, it retains the look of raw plywood over time better than actual plywood.
Once this was perfected, a second decor, Smoked Birchply, was developed to reflect the growing movement towards plywoods that are coloured with translucent washes. "We selected a beautiful teal blue colouration that will perfectly complement a forthcoming Laminex solid colour decor called Winter Sky," says Sookee. "The artistic part of our development process was in ensuring that you could still see the fibre detail and base wood colour peeping through the colour wash, just as you would with coloured plywood."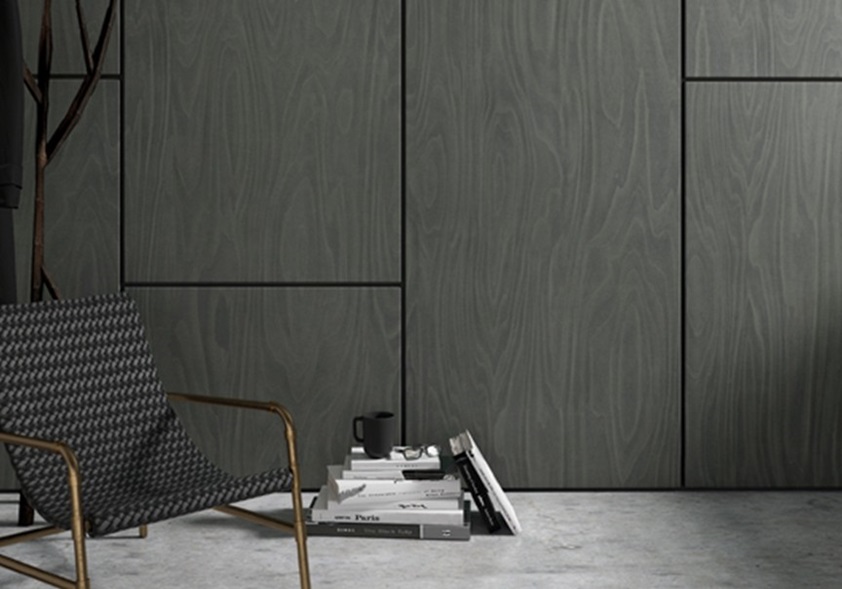 Of course, one important aspect of plywood isn't on its timber face at all, but along its edges where the contrasting light and dark layers of veneer contribute to the material's strong graphic appeal. So Laminex developed ABS edging with multiplex colourations for both new decors that replicate the look. And for applications where it's preferable to blend panel faces and edges, for example, on the leading edge of vertical panels abutting cabinetry doors, face-matched ABS edging is also available.
The benefits of plywood laminate over plywood
Sookee acknowledges that, for many designers, the natural material will always be their first preference. However, in applications where hard-wearing surfaces are required, Raw Birchply will come into its own. "If someone wants to make kitchen cupboard doors out of rotary birch ply, that's fine," he says. "But anywhere there are concerns about constant cleaning, frequent splashing with water or everyday wear and tear, such as commercial and residential fit-outs, an authentic imitation of natural plywood is a practical and beautiful solution."
Those classic Laminex performance characteristics – durability, cleanability and ease of maintenance, stain resistance, UV resistance and colour stability – are the most obvious reasons for specifying plywood laminate over real ply, but there are others. Installation is much simpler, for example, because the laminated panel is pre-finished, so there's no lacquering or staining; it just has to be cut to size and edged. And the consistency of Laminex's production process means that panels will match each other for tone and detail, whether they're specified at the same time, one month apart or one year later. Considering the many factors that influence the detail and tone natural timber, and the myriad effects of finishing and ageing, it's another reason why Laminex Birchply designs are a valuable addition to the design toolbox.