Here's a thorough look at the good and bad to using this versatile sheet good.

BY JOSEPH TRUINIOCT 7, 2020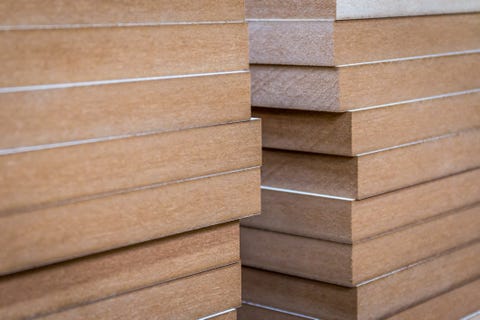 EYALGRANITGETTY IMAGES
Most woodworking projects are built using a combination of solid-wood boards and some type of sheet good, such as plywood, particleboard, or hardboard (a.k.a.: Masonite). Sheet goods come in large 4×8-ft. panels, so they're ideal for making cabinet doors, wainscoting, tabletops, shelving units, drawer bottoms, cabinets, and other large, wide parts.RELATED STORIES10 Awesome Woodworking Projects for Every SkillHow To Build a Nail Tray From Scrap Wood
And while plywood—in its many variations—is by far the most popular sheet good, there's a lesser-known panel that every DIY builder should know about: medium-density fiberboard, which is commonly referred to by its initials: MDF. But before taking a closer look at this versatile sheet good, here's a brief explanation of exactly what is MDF.
MDF Defined
MDF is composted of wood-mill byproducts, primarily sawdust and wood shavings, which are ground into a fine powder, dried to remove moisture, and then mixed with resins and wax before being pressed into flat, hard panels. Unlike plywood, MDF doesn't have a wood-grain appearance; it has a consistent light-brown color with no discernible texture or pattern. MDF is also much harder, smoother and denser than plywood, and it doesn't have any voids, knots, or splinters.
MORE FROM POPULAR MECHANICS
How cricket bats are made in PakistanPrevious VideoPauseNext VideoUnmuteCurrent Time 0:31Loaded: 44.68%Remaining Time -2:56FullscreenWATCH: How cricket bats are made in Pakistan
MDF is sold at most home centers and lumberyards in 4×8-ft. sheets in two thicknesses: ½ in. ($26) and 3/4 in. ($28); ¼-in.-thick MDF ($7) is available, too, but typically only in 2×4-ft. panels. And note that moisture-resistant MDF and fire-resistant MDF are also available, although they're harder to find and must typically be special ordered.
Okay, now let's take a closer look at the benefits and drawbacks to MDF.
Benefits
MDF is very hard and dense, perfectly flat, and extremely resistant to warping. It's also relatively inexpensive.
It has two super-smooth surfaces (front and back) that provide a near-perfect substrate for painting.
Because MDF is composed of wood byproducts, you can cut, rout and drill it using standard woodworking tools.
It expands and contracts less than solid wood.
MDF parts can be fastened together with a wide variety of nails or screws, including pocket screws.
MDF is an excellent substrate for wood veneer or plastic laminate.
It can be glued together with virtually any type of adhesive, including carpenter's glue, construction adhesive and polyurethane glue.
MDF can be machined, routed and shaped to create decorative moldings and raised door panels—without annoying tear-out or splintering.
MDF is highly compatible with solid wood. For example, you can install an MDF raised panel in a cabinet-door frame cut from hardwood.