Lesprom- Given the current situation in many regions of the US, it is assured that demand for plywood and other panel sheathing is going to increase in the short-term, according to Madison's Lumber Reporter.
There are much fewer producers of this essential building material than there are regular sawmills of North American construction framing dimension softwood lumber. As well, input costs for wood panel products are much higher.
A spike in demand, whether for immediate repair needs or longer-term rebuilding, for Plywood and Oriented Strand Board (OSB) always causes a surge in price. If it is a brief, sudden circumstance, plywood prices will pop for three weeks or so then settle back down. If for a more long-term impact (for example: rebuilding an entire town after forest fire) wood panel products will sell at higher prices for a longer time.
The prices of Canadian OSB 7/16" — the benchmark item among North American wood panel commodites — where already greatly improved over one year; in large part due to mergers, consolidations, and other attrition among existing panel production facilities in the past couple of years.
As for dimension lumber, 2×4 studs and standard grade (#2&Btr) dimension lumber items were again in short supply compared to demand. Sawmills across the US and Canada had trouble processing enough volume to keep pace with ravenous customers; as production was affected by reduced staff, rotating shifts, and other conundrums caused by augmented return-to-work restrictions.
For the week ending May 29, 2020, the price of Western-Spruce-Pine-Fir 2×4 continued its upward trajectory, improving another +$6, or +2%, to US378 mfbm compared to the previous week when it was US$372. Prices for this benchmark construction framing dimension softwood lumber item were up +$42, or +13% from the lows of one month ago. Compared to the same week in 2019 when it was US$306, this price is up +$72, or +24%.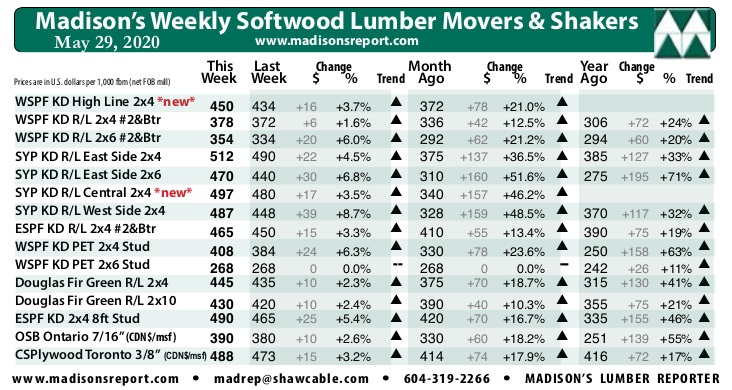 Looking at structural framing softwood lumber, Tuesday was when Canadian WSPF sawmills started to really move product, selling out of bread and butter items at incrementally increasing prices as soon as any volume came available. Consequent order files were into the week of June 22nd, with vanishingly little supply available for June 15th. Demand was especially strong for straight lengths and 4- and 6-inch high line, as home centres and treating plants were very busy. Late shipments were common, but not due to transportation issues. Production volumes were the culprit; getting sawmills back to normal capacities with labour restrictions still in place caused operational headaches.

Recovering from recent plummets, last week's Western S-P-F 2×4 price remained even relative to the 1-year rolling average price of US$378 mfbm and was down -$24, or -6%, relative to the 2-year rolling average price of US$402 mfbm.
The below table is a comparison of recent highs, in June 2018, and current May 2020 benchmark dimension softwood lumber 2×4 prices compared to historical highs of 2004/05 and compared to recent lows of September 2015: