Daytonsuperior – The Maple Leaf Meats company was planning a new processing plant in Brandon, Manitoba, located 130 miles (200 kilometers) west of Winnipeg in Canada. The facility is designed to process 2,000 hogs per day, making a large on-site treatment plant essential to its operation. Key components of the plant are the large rectangular concrete aeration basin and the circular settling tanks.
The construction schedule for this project was very fast-paced. It required the entire treatment plant to be built and operational in just five months. Gateway Construction, the concrete contractor for the basin and tanks, had always used job-built forms, but the schedule was much too tight to spend time measuring, cutting and nailing large amounts of plywood and lumber. They knew they needed a significant boost to their forming productivity, so they asked Symons® by Dayton Superior for formwork suggestions.
For the 270′ x 56′ x 17′ (85m x 17m x 5.2m) concrete aeration basin, Symons recommended the Steel-Ply concrete forming system, but Flex-Form was the choice for the 17′ (5.2m) high, 38′ (11.6m) radius circular tank wall.
Despite the crews relative inexperience with modular systems, they quickly adapted to the Steel-Ply system and immediately recognized the advantages of handsetting modular forms compared to building each piece. Gateway really appreciated being able to remove just a few panels to fix a rebar configuration problem they discovered at the last minute. They knew that it would have been a time-consuming undertaking to tear apart and rebuild job-built forms if they had been using their old concrete forming methods.
For the circular tanks, the contractor was really impressed with the speed that was possible. The Flex-Form forming system arrived on site already set at the predetermined radius, so all that the crew needed to do was bolt the forms into three 20′ wide gangs and set them in place. These gangs were cycled through each of the four sections of the round tanks, mimimizing setup and takedown labor.
Project Manager Gary Mueller was happy that his crew did not need to spend time and materials setting up jigs to create the templates that they would normally use with curved job-built forms. He also appreciated that he was able to keep the forms almost constantly in use, maximizing equipment utilization and minimizing the rental time.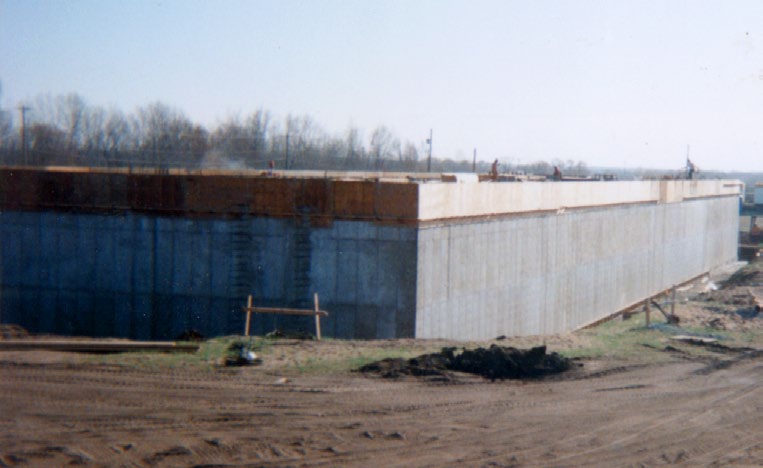 The contractor gained further speed by using 96 Kip Taper Ties on this project. These high capacity ties reduced the number of ties and the associated time and labor associated with setting ties and patching tie holes.
The contractor reported that the Steel-Ply and Flex-Form systems helped them reach their goal of completing the structures on time and within budget. Gateway Vice-President Carson Rist was very pleased with the results, and believes that the plans and support that Symons could provide every step of the way helped make this important project a success.