Our daily look at the world through the lens of design.
BY THE EDITORS – The Design Dispatch offers expertly written and essential news from the design world crafted by our dedicated team. Think of it as your cheat sheet for the day in design delivered to your inbox before you've had your coffee. Subscribe now.
Have a news story our readers need to see? Submit it here.
Worthless Studios is repurposing excess plywood from storefronts into public artworks.
This year, almost every corner of New York has undergone a stark transformation, feeling at once empty due to the coronavirus pandemic yet bustling due to outdoor dining enclosures that line sidewalks. One change that engrossed Neil Hamamoto, the founder of local nonprofit Worthless Studios, was the luxury storefronts that were fully boarded up in plywood to protect from property damage stemming from the widespread racial justice protests that broke out over the summer. "Plywood prices skyrocketed to above $90 for one four-by-eight-foot AC plywood board, and supply was depleted citywide," Hamamoto tells Designboom. "Art material costs rank at the top of the artist's expense list, and this discarded material must not go to waste." His latest initiative, the Plywood Protection Project, asks five local artists to create public sculptures from the salvaged material. The works, which will be no larger in volume than 12 cubic feet, will be displayed across the city in spring 2021.
Despite opposition, the British government approves a road tunnel near Stonehenge.
The British government has given the green light for a controversial $2.2 billion road tunnel below Stonehenge, despite an outcry from activists. The World Heritage Site lies alongside a major highway, the A303, which has become infamous for bottleneck traffic jams. Drudging up a dual-carriageway beneath the landmark would dampen noise and hide the cars, reinstating it back into the landscape. Advocacy groups like the Stonehenge Alliance, however, are concerned that the tunnel is too short. At two miles long, it would be built within the site's three-mile perimeter. In fear of damaging the megalith and half a million artifacts in the ground before archaeologists can dig them up, UNESCO discouraged the tunnel's construction. In the coming six-week period to challenge the project in courts, people will gather from around the world to protest. "If they really wanted to do this, they should have done it properly with a much longer tunnel," says Arthur Pendragon, a Druid who claims to be the reincarnation of King Arthur. "Not one that pops up at both ends in the world heritage site."
Less white, Western, and male: a new book chronicles the dynamic history of abstract art.
In his new book, Abstract Art: A Global History, Joseph Low ("Pepe") Karmel, professor of art history at New York University, rethinks long-established narratives about the field. Karmel's take on abstract art isn't traditional—he insists that there's no such thing as pure form as "all abstract art is rooted in the experience of the real world," wherever and whenever art was made. Considering women and the BIPOC community, often excluded from discourse, he outlines five major subject matters—architectures, bodies, cosmologies, landscapes, and signs—from 1915 to 2015, each spanning more than 100 years. Arriving this month, the publication aims to "demonstrate different ways of looking at abstraction and to encourage readers to respond to a wider range of abstract art."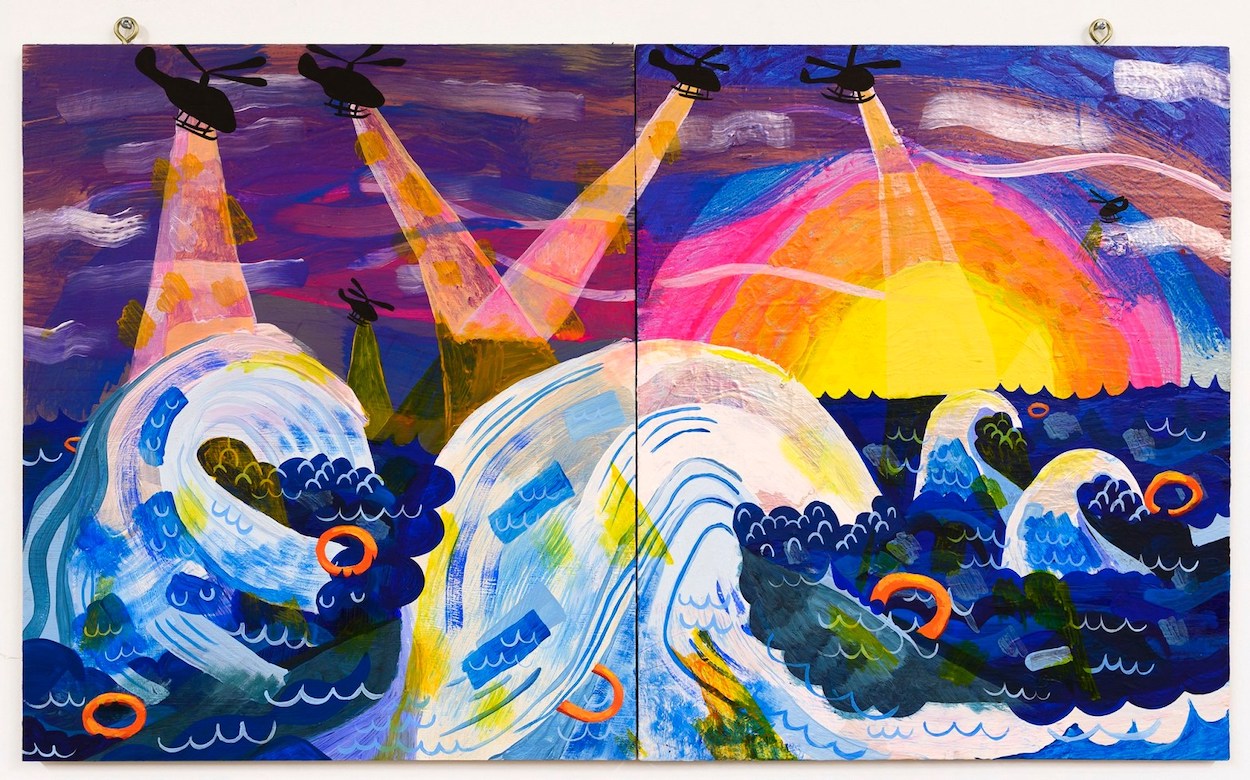 A new dedicated school will teach the history of Black art, completely free of charge.
The idea came to Azikiwe Mohammed when his friend joined a "paint and sip" class. The works presented as references were overwhelmingly from the Western canon, and largely by white artists. "It's always this overarching white history starting point that everybody's coming from," Mohammed tells Hyperallergic. "The object is disseminated throughout the entire room, and everybody paints the same thing, further spreading that history."
While museums and galleries have responded with more diverse exhibitions and representation, shows devoted to Black artists are still far and few between. The same goes for their work, which is seldom encountered in institutions. Mohammed set out to change that with the Black Painters Academy, a school for budding artists to learn about the history of Black art. With hopes of attracting those who may not otherwise feel welcome, the academy's classes are completely free and open to students of all ages. "You're seeing a lot more Black-identifying painters in the field moving around, more Black objects. It's incredible, it's absolutely beautiful to see," says Mohammed. "But where are the other ones? What if we had a building where we could help make some more?" The Black Painters Academy is currently fundraising on Kickstarter and plans to open at 5 Eldridge Street in Manhattan early next year.
Marine sponges are paving the way for stronger and lighter bridges and skyscrapers.
Although humans have long looked to nature for inspiration, the concept of biomimicry has only been around since the mid-20th century. Decades before Otto Schmitt coined the term, Rene Binet's Esquisses Décoratives (1904) predicted speculative designs that prefigure many of the forms we see today. This largely forgotten anthology of illustrations, viewable in full here, also augurs biomimicry in several drawings based on biological and morphological illustrations of Ernst Haeckel's better-known "Forms in Nature."
Fast forward to the present, where the term "biomimicry" largely refers to the rigorously functional, performance-oriented analogues of natural phenomena. Researchers from Harvard John A. Paulson School of Engineering and Applied Sciences (SEAS) are inspired by lattice-like skeletons of marine sponges, which could be the secret sauce for the next generation of skyscrapers and bridges. In a paper published in Nature Materials, researchers found that the diagonally reinforced square skeletal structure of Euplectella aspergillum, a deep-water sea sponge, has a higher strength-to-weight ratio than century-old lattice designs used in the construction of buildings and bridges. "We found that the sponge's diagonal reinforcement strategy achieves the highest buckling resistance for a given amount of material, which means that we can build stronger and more resilient structures by intelligently rearranging existing material within the structure," Matheus Fernandes, a graduate student at SEAS and first author of the paper, told Harvard School of Engineering.