Broadsheet – Visit for new additions to Incu's range of brands – including Comme des Garcons Homme, JW Anderson and Simone Rocha – and a collaboration with Black Star Pastry to celebrate the openings.
Men's storePhotography: Courtesy of Incu / Terence Chin1/7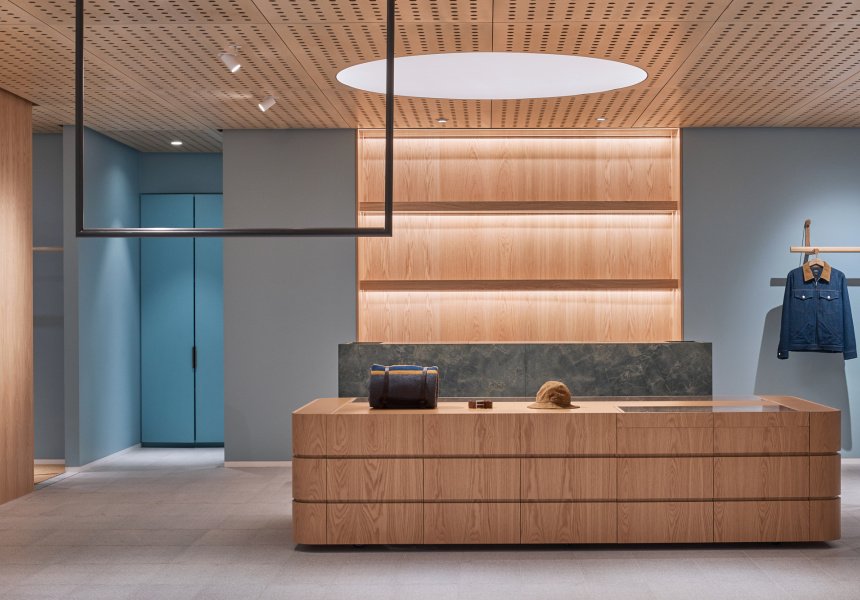 Men's storePhotography: Courtesy of Incu / Terence Chin1/7
Women's Designer storePhotography: Courtesy of Incu/ Terence Chin1/7Published on 16 November 2020by CHE-MARIE TRIGGSHARE
Cult Sydney-based fashion retailer Incu has launched two new stores today, November 16, both within the Galeries shopping complex in Sydney's CBD. A new women's designer boutique has opened next to Incu's existing Women's Contemporary store, with the new men's store located on the ground floor of the Galeries, near the entrance to Town Hall Station.
In The Galerie's Men's store, expect classic Incu brands such as APC, Acne Studios and Rag Bone alongside newly introduced designers such as Bode, Casablanca, Harmony, Yoke, Comme des Garcons Homme, Studio Nicholson and Undercover. Upstairs in the new women's store there's a host of designers new to Incu, including By Far, Simone Rocha, Auralee, Jeanerica, Marni, JW Anderson and Dries Van Noten.
Both new stores have been designed by Akin Atelier – the studio responsible for Incu's other boutiques. Expect textural touches such as oak fittings in cool hues, with terrazzo-tile floors and perforated plywood ceilings. https://imasdk.googleapis.com/js/core/bridge3.423.0_en.html#goog_110611066600p low geselecteerd als afspeelkwaliteit960p geselecteerd als afspeelkwaliteit
To celebrate the new openings, Incu has partnered with Black Star Pastry to create a shopping bag made from shortbread, with 50 available each day from this Friday to Sunday. Plus, customers will get Gong Cha bubble tea as a gift with purchase until sold out.
Incu was founded in Sydney in 2002 by twin brothers Brian and Vincent Wu, who wanted to recreate the shopping experiences they'd had on trips to Hong Kong when they were growing up. Incu now has 12 stores across Australia, and also owns the Aussie APC and Rag & Bone stores.
The Galeries Women's (Designer) Store and Galeries Men's Store are now both open at 500 George Street, Sydney.